Learn all about the Great Barrier Reef with our Marine Biologists
Join our passionate and professional marine biologists for a guided snorkel tour around one of Australia's most beautiful reef locations, The Great Barrier Reef! The guided snorkel tour takes approximately 20 minutes, bringing you up close and personal with the extraordinary marine life and colourful coral.
For beginners, this is a great way to learn the art of snorkelling and feel comfortable in the water.
For more experienced snorkellers this is an interactive tour that will put you on the path to explore the key coral formations and marine creatures - setting you up for a great day of exploration at your own pace. You will learn all about the flora and fauna within the Great Barrier Reef ecosystem.


What our guests say:
"I can't speak more highly of your marine biologists. I joined the guided tour with my students with your Marine Biologist Alistair. He is a rock star, very knowledgeable and engaging."
- Mr Matthew Finster, Science Department, Trinity Bay High School


Marine Biologist reef conservation work
Our team of dedicated Marine Biologists are actively engaged in conservation work on the Great Barrier Reef. Their weekly tasks include collation of data via observational surveys as part of the Eye on the Reef program with the Great Barrier Reef Marine Park Authority.


Meet our Marine Biologists:
Phil Scott, Marine Biologist and PADI Dive Instructor
Phil graduated from James Cook University with a Bachelor of Science, majoring in Marine Biology. Phil joined the Down Under Cruise and Dive team in August 2018, working onboard Evolution as a marine biologist and PADI Dive instructor. Phil runs the snorkel tours, showing visitors our reef sites though engaging educational tours in the water and also through speeches on the semi-submersible vessel.
Phil also conducts our Cairns Educational Tours for high school groups onboard Evolution, with who we involve in data collection through the coral-watch program run by the University of Queensland. He is also involved in the Eye On the Reef tourism weekly program, where data is collected weekly from our dive sites.
Phil is passionate about helping people fall in love with the reef like he has, and to ignite passion in others through high-quality education so that we can maximise the chances of a functioning reef system in future uncertain times.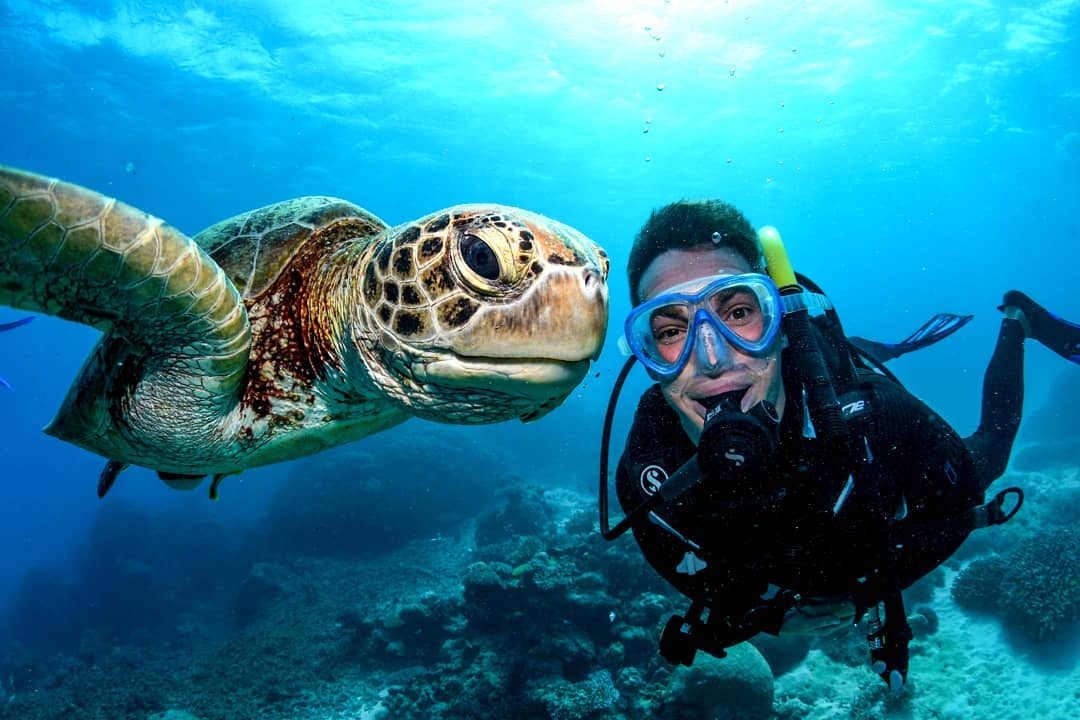 Alistair Chegwidden, Master Reef Guide, Marine Biologist, Deck Supervisor
Alistair Chegwidden has worked for Down Under Cruise and Dive for over seven years in various leadership roles, including his current role as Deck Supervisor. As a key member of our leadership team onboard Evolution, Alistair ensures the smooth running of our snorkelling, diving and other activities including the scenic helicopter flights, Gold Class VIP area and himself guides divers and snorkellers throughout the day. Alistair's qualifications include: BSc Aquaculture from JCU, a master <24m and a MEDll certification.
Alistair was recently named 1 of the 19 incredible master reef guides that have just spent a week on Heron Island sharing scientific knowledge and storytelling techniques!
He joined the Down Under Cruise and Dive team 7 years ago as part of our Trainee Divemaster internship program and has grown over the years into a very valued part of the team! We are so very proud of Alistair, Evolution's first very own master reef guide. So, when you are exploring our beautiful Great Barrier Reef Marine Park, have a chat with Alistair, who is more than happy to answer any reef and marine questions you may have.
What is a Master Reef Guide?
Master Reef Guides are recognised as the world's leading reef guides, interpreters and storytellers sharing the wonders of the Great Barrier Reef World Heritage Area. These reef ambassadors can provide up-to-date information on the Reef, share stories of the magical World Heritage Area, and explain what you can do to make a difference. The Master Reef Guide program is delivered by the Great Barrier Reef Marine Park Authority, Association of Marine Park Tourism Operators and Tourism and Events Queensland and is the first of its kind for the Reef.
Content: Great Barrier Marine Park Authority.